Marines
Jennifer Harris
---
DOD // 02.07.2007
HOMETOWN // Swampscott, MA
DOB // 11.06.1978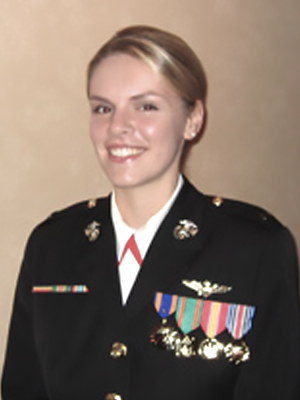 Capt. Jennifer Harris, USMC, died Feb. 7, 2007 in a helicopter crash in Al Anbar province, Iraq. Capt. Harris was assigned to Marine Medium Helicopter Squadron 364, Marine Aircraft Group 39, 3rd Marine Aircraft Wing, I Marine Expeditionary Force, Camp Pendleton, Calif. She graduated the United States Naval Academy in 2000 and was commissioned a Second Lieutenant in the United States Marine Corps. She earned her Wings of Gold in 2002 and became the first female pilot in the Purple Foxes Squadron. She did three tours of duty in Iraq. She also loved sailing and was a member of the Swampscott Recreation Commission Sailing Program and the Naval Academy's Intercollegiate Sailing Team. She was survived by her parents, Raymond and Rosalie Harris, and her fiancé, Capt. Christopher Aaby.
"Only true heroes have the strength to go out there and fight for total strangers. They deserve so much and especially the fallen ones, you know that they died with bravery and courage. Service has impacted me so much."
-Molly Lynch, 2012 Character Does Matter Scholarship Recipient
The Travis Manion Foundation honored Capt. Jennifer Harris in the Character Does Matter program at Villa Maria Academy High School in Malvern, PA. The students dedicated almost 2000 hours of service in honor of Capt. Harris. She was also honored through the Travis Manion Foundation Character Does Matter program presented during the USNA's Summer Seminar and USNA STEM (Science, Technology, Engineering, and Math) Camp for rising 11th graders.
"I was absolutely inspired by your daughter's story and I want to dedicate all of my service hours to preserving her memory. She was such a wonderful example of dedication and service. I hope to live my life the way Jen did, serving others. Thank you for the gift of your daughter." – Katie Yeagley, Villa Maria Academy High School Class of 2013 in a letter to Capt Harris' parents after participating in the "If Not Me, Then Who…" Service Challenge
Related Links
Boston.com
http://www.boston.com/news/local/massachusetts/articles/2007/11/11/sacrifice_honored/?page=full
TMF Stats:
001 78,000+ Veterans + Survivors Empowered

002 200,000+ Spartan Members
003 550,000+ Youth Living "If Not Me, Then Who..." Movement