Marines
Matthew Bancroft
---
DOD // 01.09.2002
HOMETOWN // Redding, CA
DOB // 07.06.1972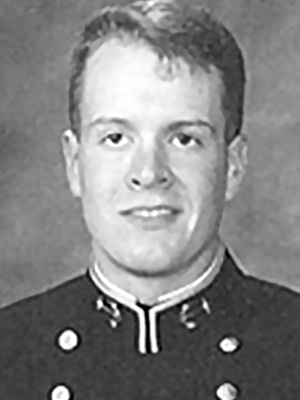 Capt Matthew W. Bancroft, USMC, was one of seven Marines who died on January 9, 2002 when a KC-130 tanker plane he was piloting crashed into a mountain near Shamsi, Pakistan. Capt Bancroft was assigned to Marine Aerial Transport Refueler Squadron 352.
He graduated Burney High School in 1990 and earned the nickname "Burney" among his friends in his hometown. After high school, Matthew attended the United States Naval Academy, graduating with a B.S. in economics, and was commissioned as a Second Lieutenant in the U.S. Marine Corps in 1994.
He went on to log more than 1500 flight hours during his career, earning his wings of gold in 1996 and rising through the ranks to become a Captain. He is survived by his wife, as well as his three children.
"I always used to ask him 'Why do you have to go?'" said Bancroft's 12-year-old stepson, to the crowd of 300 at the late Captain's funeral. "He answered, 'I am fighting for our country.' Before he left, he told me to take care of our family."
Capt Matthew Bancroft was honored by Travis Manion Foundation's Character Does Matter program presented during the USNA's Summer Seminar and USNA STEM (Science, Technology, Engineering, and Math) Camp for rising 11th graders.
TMF Stats:
001 78,000+ Veterans + Survivors Empowered

002 200,000+ Spartan Members
003 550,000+ Youth Living "If Not Me, Then Who..." Movement