Marines
Michael Quin
---
DOD // 02.22.2012
HOMETOWN // Purcellville, VA
DOB // 09.22.1983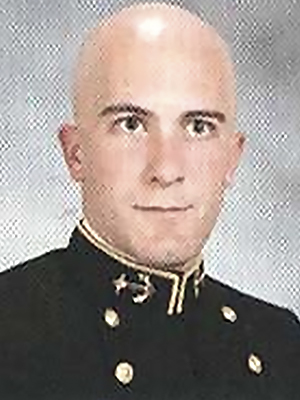 Captain Michael Quin was among seven Marines who died when two military helicopters collided in the Yuma Training Range Complex along the California-Arizona border on February 22, 2012. Also killed in the crash were Maj. Thomas A. Budrejko, 37, of Montville, Conn.; Capt. Benjamin N. Cerniglia, 31, of Montgomery, Ala.; Sgt. Justin A. Everett, 33, of Clovis, Calif.; Lance Cpl. Corey A. Little, 25, of Marietta, Ga.; Lance Cpl. Nickoulas H. Elliott, 21, of Spokane, Wash. and Capt. Nathan W. Anderson, 32, of Amarillo, Texas.
Captain Quin was a native of Purcellville, Virginia, where he went to March Elementary School, Easton Area Middle School, and Loudoun Valley High School. He played soccer and eventually became captain of the soccer team. He was also a Cub Scout and an Eagle Scout. He loved being outside but he also enjoyed reading. He was in the National Honor Society and also ran track and field. Capt. Quin was a Class of 2006 United States Naval Academy Graduate.
Capt. Quin is survived by his parents, his sisters, and his fiancée.
Capt. Quin was honored through the Travis Manion Foundation Character Does Matter program presented during the USNA's Summer Seminar and USNA STEM (Science, Technology, Engineering, and Math) Camp for rising 11th graders.
Additional Links
TMF Stats:
001 78,000+ Veterans + Survivors Empowered

002 200,000+ Spartan Members
003 550,000+ Youth Living "If Not Me, Then Who..." Movement