Army
Luigi Marciante
---
DOD // 09 .20.2007
HOMETOWN // Elizabeth, NJ
DOB // 11.10.1981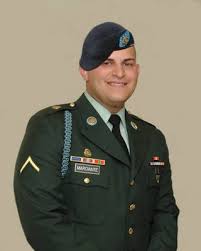 Luigi "Louie" was born November 10, 1981, in Elizabeth New Jersey. He was a beloved husband, father, son, and hero to all who knew him. He was renowned and cherished for his love of life, sense of humor, and uncanny ability to bring happiness to every life he touched. Physically gone but not forgotten, our lives are richer having known him, and his presence will sustain us forever, not only in our hearts but in the eyes of his son.
A newlywed four months into his first Iraq tour, Marciante had been given an 18-day leave so he could return home for the birth of his son and Louie soaked in every minute with Lorenzo. When he donned his fatigues again on August 23rd for his flight back to Iraq, Louie could only talk about when he'd be able to return home for good, raise his son and fulfill his dream of becoming a police officer.
Cpl. Luigi "Louie" Marciante Jr., was killed in action on September 20th, 2007 in Muqdadiyah, Iraq, of wounds, sustained when an improvised explosive device detonated near his vehicle. The Elizabeth High School graduate was assigned to the 2nd Battalion, 23rd Infantry Regiment, 4th Brigade, 2nd Infantry Division, Stryker Brigade Combat Team, Fort Lewis, Washington. He died supporting Operation Iraqi Freedom. Louie was survived by his wife, Stephanie (Busby) Marciante, his son, Lorenzo, his parents, Maria and Luigi Marciante, two brothers and one sister, Accursio and his wife, Maria, Raniero and his wife, Renee, and Enza (Balestrieri) Marciante and her husband Vincent along with nieces, nephews, and countless family and friends. 
Louie was a vibrant 25-year-old who had an amazing zest for life. Not a day goes by that we don't miss his laugh, the smell of his cologne, or just a telephone call to say, "hi". We as Louie's family are tremendously proud of the man he became. We are proud that he wanted a better life and chose to join the Army to achieve that goal. Proud that he was loved by so many people and touched so many lives. But most of all we are proud that he served our country with honor.
"His family has said that he was in the Army to become a better person, but Louie also made the Army better…His devotion to his fellow soldiers and his humility, his strong sense of duty and his courage made all of us better." -Army Maj. Gen. David Huntoon via The Star-Ledger
The Travis Manion Foundation honored Cpl. Marciante Jr., through the Character Does Matter program by sharing his story with 95 students at The Children's Institute in Livingston, NJ on March 11, 2013.
Related Links
 The Star-Ledger
http://blog.nj.com/njwardead/2007/09/army_pfc_luigi_marciante_jr_se.html
TMF Stats:
001 78,000+ Veterans + Survivors Empowered

002 200,000+ Spartan Members
003 550,000+ Youth Living "If Not Me, Then Who..." Movement