Army
Drew Russell
---
DOD // 10.08.2011
HOMETOWN // Scotts, MI
DOB // 03.20.1986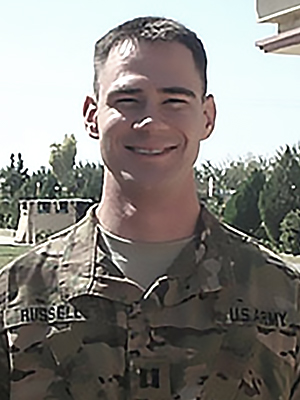 Captain Drew Russell was killed in action on October 8, 2011 inside a compound headquarters tent in Kandahar Province, Afghanistan by wounds suffered from a rocket propelled grenade and ensuing small arms fire. An Army investigation confirmed that Captain Russell was killed by a rogue Afghan Army soldier, although the circumstances of his death remain publicly undisclosed. He was assigned as an armor officer and battle captain to the 1st Squadron, 10th Cavalry Regiment, 2nd Brigade Combat Team, 4th Infantry Division, Fort Carson, Colorado.
Captain Russell was a 2004 graduate of Vicksburg High School and a 2008 graduate of Western Michigan University, where he majored in criminal justice. He is remembered as a hardworking student in Western Michigan University's Reserve Officer Training Corps, where he earned his commission at the top of his class. His passion for service and ardent work ethic earned him promotion to Captain ahead of his peers.
Captain Drew Russell is survived by his parents, Jim and Patti, and his brother, Jimi. For his service, he was award the Army Achievement Medal. He was posthumously awarded the Bronze Star Medal and the Purple Heart. He is interred at Schoolcraft Township Cemetery in Vicksburg, Michigan.
The Travis Manion Foundation honored Drew Russell through our Character Does Matter program in November 2013 when we told his story to 225 students at Stockbridge Middle School in Stockbridge, MI.
TMF Stats:
001 78,000+ Veterans + Survivors Empowered

002 200,000+ Spartan Members
003 550,000+ Youth Living "If Not Me, Then Who..." Movement