Marines
Jesse Melton III
---
DOD // 09.09.2008
HOMETOWN // Randallstown, MD
DOB // 11.13.1978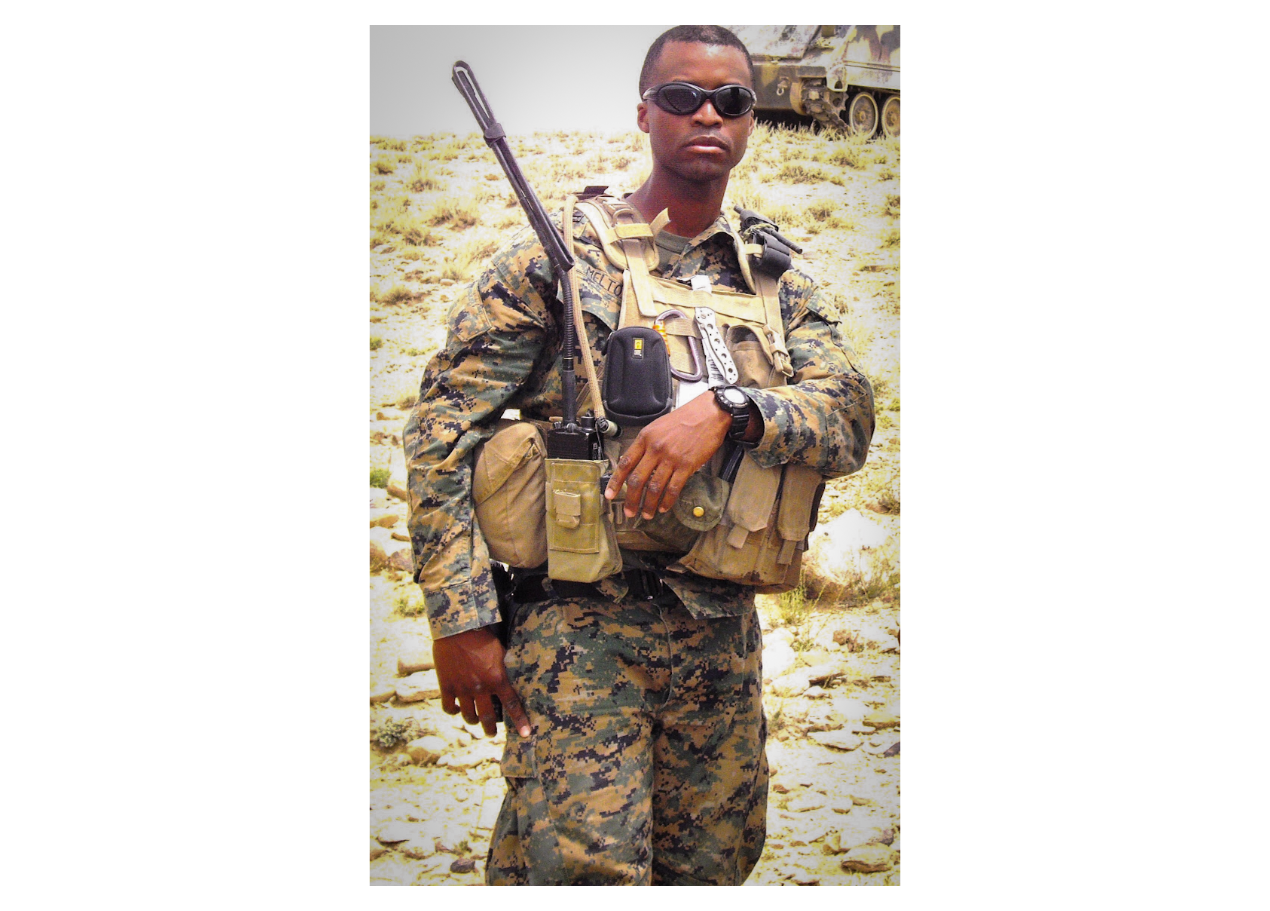 TOP CHARACTER STRENGTH
LEADERSHIP - LOVE OF LEARNING - PERSEVERANCE
Captain Jesse Melton III, USMC, was assigned to HQ, 12th Marines, 3rd Marine Division, III Marine Expeditionary Force, Okinawa, Japan. Jesse enlisted in the Marine Corps Reserve after his first year at Messiah College. He completed Officer Candidate School in 1999. After graduating in June of 2000, Jesse received his commission as a 2nd Lieutenant. He strongly believed that to be a good Officer, he must lead by example. He stated, "I want the Marines on my team to follow me out of admiration, not obligation." 
He was a Christian who strived to keep God first, his family second and his career third. Jesse was promoted to the rank of Captain in 2005 prior to his deployment to Iraq. He served abroad several times before being deployed to Afghanistan in 2008. Prior to his deployment to Afghanistan, he told his mother, Janice Chance, "I want to go change the world and make a difference, and do something that will bring God glory."
He was KIA on 9/9/2008 while supporting combat operations in Afghanistan - Operation Enduring Freedom. Jesse was off duty but agreed to take the place of a fellow Marine. As he was returning from completing a mission with his team, an IED was detonated by an enemy combatant. Two days after Jesse's ultimate sacrifice, the Marine whose place he took on the convoy became the father of a baby boy. 
Captain Melton received 13 military service awards, medals, and commendations during his career. He was awarded the following Unit Awards: Navy Unit Commendation Ribbon Service Awards: Selected Marine Corps Reserve Medal, National Defense Service Medal, Afghanistan Campaign Medal w/one bronze star, Iraq Campaign Medal w/one bronze star, Global War on Terrorism Expeditionary Medal, Global War on Terrorism Service Medal, Sea Service Deployment Ribbon w/3 bronze stars. Posthumously he was awarded: a Bronze Star Medal (with Combat "V") , Purple Heart Medal; Joint Service Commendation Medal; Combat Action Ribbon, and NATO Medal (ISAF -International Security Assistance Force – Afghanistan).
Leadership - After someone attempted to break into our home, Jesse—who was 15 years of age—organized a group of adults and teens to help trim down tall hedges that were surrounding our property. The hedges provided cover for criminals because no one could see them. The church leaders recognized Jesse for his exceptional leadership skills and teamwork. Therefore, he was selected to serve as one of the youth group leaders. Jesse was a " Servant Leader."
After his dad left our home after 11 years of marriage, when Jesse was only 10 years old, he told me not to worry. Jesse said, "Mom, I am going to be the man of the house." Although I told him it was my job, Jesse was not deterred. He did everything he could to watch out for his siblings and me whenever possible, especially when he was able to work. Jesse made sure that our family spent times of fellowship and assisted with paying for personal expenses and also expenses for his siblings. He watched over his family like a hawk.
Love of Learning - Jesse was always striving to learn new things and become better. He was an avid reader. In elementary school, he won the summer reading contest at our local library. Additionally, when Jesse was younger he aspired to earn to his Black Belt in karate. Unfortunately, as a single parent, I did not have the financial means to pay for the classes. When he became a Marine, he was finally able to take martial arts training that enabled him to earn his Black Belt. Jesse was thrilled to inform me he was able to fulfill his life long dream. Jesse also became a scuba diver and took salsa dancing lessons. He taught me how to salsa dance during what became our last Christmas together. 
Perseverance - Jesse faced many challenges after his father and I divorced. He was bullied during his grade school years. Jesse endured and fortunately overcame the mistreatment and ridicule by his peers. He did not allow this to deter him from achieving his goals or mistrusting others. Jesse excelled academically and participated in numerous extracurricular activities such as lacrosse, baseball, honor society, etc. He was also popular among our neighbors and church youth group. Jesse became a advocate and supporter for other students who were mistreated. I will never forget the day Jesse received his commission as a 2nd LT at our church. He gave a heartwarming message that made our family proud. During Jesse's remarks, he shared briefly about overcoming many challenges thanks to God, his biological family and church family. Jesse forgave his father and allowed him to pin his rank on his uniform. This was truly an emotional and humbling moment. 
-Submitted by Janice, Surviving Mother
Jesse's service was honored during the 2023 New Orleans Expedition.

Website:
www.Jessemelton3rd.net



TMF Stats:
001 78,000+ Veterans + Survivors Empowered

002 200,000+ Spartan Members
003 550,000+ Youth Living "If Not Me, Then Who..." Movement