Army
John Engeman
---
DOD // 5.14.2006
HOMETOWN // East Northport, NY
DOB // 7.8.1960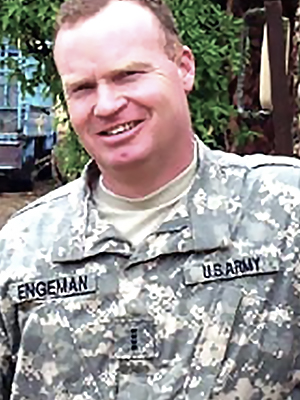 CW4 John Engeman died in Baghdad, Iraq, on May 14, 2006 when an improvised explosive device detonated near his vehicle during combat operations. He was a member of 1st Battalion, 312th Training Support Battalion, 4th Brigade, 78th Division (Training Support), Fort Bragg, N.C. CW4 Engeman grew up in Northport, N.Y., and was survived by his wife, Donna, their son, 1st Lt. Patrick Engeman, daughter-in-law, Mary Kirk Engeman, and daughter, Nicole Engeman. John joined the Army in 1978 as a mechanic and was promoted to warrant officer in 1988 and chief warrant officer in 2002. He served in Germany, Operation Desert Storm, Korea, Kosovo/Bosonia Peacekeeping, Nigeria, Hurricane Andrew Relief, and Iraq. He was awarded several medals such as the Bronze Star Medal, Meritorious Service Medal, Legion of Merit Medal, and the Purple Heart.
"I hope John is remembered as a spectacular brother and son, incredible husband and a tremendous father with immense character and a great, great soldier who believed in the United States military and its mission," said John's sister, Patti O'Neill.
The Travis Manion Foundation honored CW4 John Engeman when a Challenge Grant was awarded to his widow, Donna Engeman, to ride her Harley Davidson from San Antonio, Texas, to Washington D.C. On her empowering trip, she raised awareness for the Gold Star Flag and visited John's grave at Arlington National Cemetery for Memorial Day 2012. Donna rode with the Run for the Wall organization and in the Rolling Thunder Parade in D.C in May 2012.
Related Links
John W. Engeman Theater
http://engemantheater.com/
Run for The Wall
http://rftw.org/
TMF Stats:
001 78,000+ Veterans + Survivors Empowered

002 200,000+ Spartan Members
003 550,000+ Youth Living "If Not Me, Then Who..." Movement