Navy
Christopher Tragna
---
DOD // 04.02.2002
HOMETOWN // Long Island, NY
DOB // 10.17.1969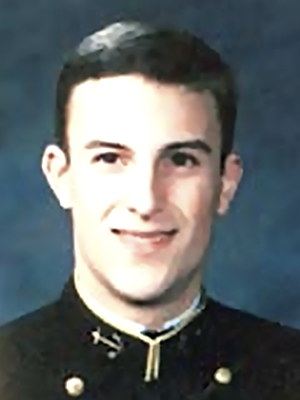 LCDR Christopher C. Tragna was killed when his aircraft collided with another during takeoff for a training flight in April 2002. He graduated from Northport High School in 1897 and then attended the United States Naval Academy. He graduated from USNA in 1991.
Friends and family recall that LCDR Tragna never stopped talking about aviation and flying. His friend LCDR Manuel Picon said, "We all knew that he loved aviation, and anyone who's ever been to his basement knows that. It's like a museum."
LCDR Chris Tragna accomplished fleet replacement training aboard the F/A-18, supported Operations Deliberate Force and Southern Watch aboard the USS America with Squadron 82, and was accepted into the Naval Post Graduate Test-School Cooperative Program. He went to the U.S. Naval Test Pilot School where he was deemed a test pilot for the F/A-18 Test Team for the Naval Strike Aircraft Test Squadron, and later became a flight instructor. He accomplished fixed wing exercises, accomplished 19 flight evaluation exercises, and updated the flight exercise.
He earned the Strike Fighter Air Medal and Marine Corps Achievement Medal and was posthumously awarded the Meritorious Service Medal. He is survived by his parents, siblings, and wife.
LCDR Tragna was honored through the Travis Manion Foundation's Character Does Matter program presented during the USNA's Summer Seminar and USNA STEM (Science, Technology, Engineering, and Math) Camp for rising 11th graders.
Additional Links
TMF Stats:
001 78,000+ Veterans + Survivors Empowered

002 200,000+ Spartan Members
003 550,000+ Youth Living "If Not Me, Then Who..." Movement