Navy
Brendan Looney
---
DOD // 09.21.2010
HOMETOWN // Owings, MD
DOB // 02.24.1981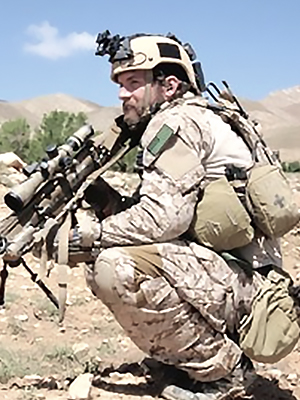 On Sept. 21, 2010, America lost one of its bravest sons. Navy SEAL, LT Brendan Looney, a San Diego, Calif. resident, was 29 years old. Brendan was born in Silver Spring and raised in Owings, Md., where he attended DeMatha Catholic High School, and excelled as a football and baseball player before graduating in 1999.
After high school, Brendan attended the United States Naval Academy, where he made the switch from football to lacrosse and went on to become an All-American in the sport. In his senior year at the Academy, Brendan took the field alongside his brothers Stephen and Billy, something he described as a "once in lifetime chance." That same year, he led his team to the NCAA National Championship game.
After graduation, Brendan was commissioned as an intelligence officer and assigned with Commander Naval Forces Korea, Detachment Chinhae. In May 2006, he received orders to Naval Special Warfare Group TWO, after which he reported to Basic Underwater Demolition/SEAL training (BUD/S). Through his toughness, hard work and leadership, Brendan was selected as "Honorman" of Class 265, where his name will be forever engraved in Naval Special Warfare history as the best that Class 265 had to offer. Upon graduation from BUD/S, Brendan reported to SEAL Team THREE where shortly after, celebrating with his family and friends, he married his girlfriend of five years, Amy Hastings.
Three days after his wedding, he met his teammates on deployment in Iraq. Upon redeployment and follow-on training cycle, he deployed as the Alpha Platoon Assistant Officer in Charge to Afghanistan in support of Operation Enduring Freedom. Brendan was killed on his 59th mission while conducting combat operations in the Zabul province of Afghanistan.
As a SEAL, Brendan was described as a skilled operator who led and motivated the people around him. As a brother, Brendan was protective, crushing any opponent who dared go after his brothers on the lacrosse field and making sure to phone his younger sisters before each school dance. As a son, he honored his parents in every aspect of his life, remaining humble in victory and gracious in defeat. As a friend, Brendan was often referred to as the "the best," always willing to lend a hand when needed and never expecting anything in return. As a husband, he upheld his commitment to be faithful, honest, and loyal to his wife Amy, whom he loved unconditionally.
Even though his life came to a tragic and early end, he accomplished more than most people will in their entire lives. Brendan Looney, in life, was a shining beacon of light, integrity, and kindness. In death, he continues to inspire greatness in others. Brendan was survived by his wife, Amy, his parents, Kevin and Maureen, and his five siblings, Steve, Billy, Bridget, Erin, and Kellie.
Vice Admiral Michael Miller, Superintendent of the Naval Academy, said it best, "Brendan serves as a reminder to us all of the commitment we make to our country as leaders in the Naval Service."
The Travis Manion Foundation celebrates Brendan's life every day through Team Travis and Brendan. We have also honored Brendan through the Athena Passage swim and through our Character Does Matter program on March 13, 2012, when we told his story to inspire 90 students at St. Andrew Apostle School in Silver Spring, Md.
In 2013, Brendan's wife, Amy, led the Travis Manion Foundation's Survivor Summit Expedition in Granby, Colorado. Amy and twelve other surviving wives, fiancés and girlfriends carried on the legacy of their fallen hero as they experienced the healing power of the mountains. Amy also led the 2014 and 2015 Survivor Summit Expedition.
Related Links
Amy Looney's column in the San Diego Union-Tribune
http://www.utsandiego.com/news/2012/sep/19/warriors-compassion-withstands-fog-of-war/
TMF Stats:
001 78,000+ Veterans + Survivors Empowered

002 200,000+ Spartan Members
003 550,000+ Youth Living "If Not Me, Then Who..." Movement