Navy
Kylan Jones-Huffman
---
DOD // 08.21.2003
HOMETOWN // Aptos, CA
DOB // 04.20.1972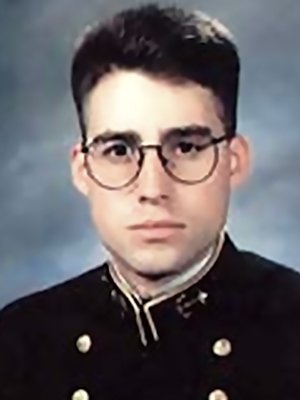 Lieutenant Kylan Jones-Huffman of Aptos, California, was killed in action on August 21, 2003 by an unidentified gunman in Al Hillah, Iraq. Jones-Huffman was an intelligence officer temporarily assigned to I Marine Expeditionary Force at the time of his death. According to a fellow officer, he was 10 days away from returning home. Jones-Huffman arrived in Bahrain in late January and worked as an Arabic speaker and expert on terrorism for intelligence at Naval Forces Central Command in Bahrain, where he earned himself the nickname "the Machine" for his ability to analyze large amounts of information.
He graduated from the United States Naval Academy in 1994, then went on to earn a master's degree in history at the University of Maryland. He was deployed three times to the Persian Gulf before returning to the academy to teach the history of Ancient Greece and Nazi Germany. He began working for the Naval Criminal Investigative Service on September 11, 2001. Lieutenant Jones-Huffman had a natural affinity for languages, and spoke German, English, French, Farsi, and Arabic.
He is survived by his wife and high school sweetheart, Heidi, as well as his family.
"He was just an absolutely remarkable analyst. He had a brilliant, incisive mind," said Doug McGlothlin, a supervisory intelligence specialist. Many of his friends from high school through his time as naval officer referred to him as the "go-to guy."
The Travis Manion Foundati on honored Lieutenant Kylan Jones-Huffman through the Character Does Matter program presented during the USNA's Summer Seminar and theUSNA STEM (Science, Technology, Engineering, and Math) Camp for rising 11th graders.
TMF Stats:
001 78,000+ Veterans + Survivors Empowered

002 200,000+ Spartan Members
003 550,000+ Youth Living "If Not Me, Then Who..." Movement