Navy
Matthew Shubzda
---
DOD // 10.18.2002
HOMETOWN // Dallas, TX
DOB // 09.17.1975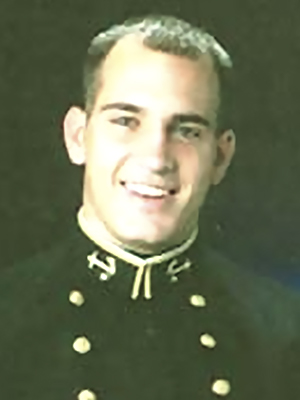 Lieutenant Matthew "Shooby" Shubzda died on October 18, 2002 during a training exercise in which he was simulating combat flying and his F/A-18F Super Hornet crashed into the Pacific Ocean 80 miles southwest of Monterey. Lt. Shubzda graduated from Naaman Forest High School as the star quarterback and sixth in his class, with a 4.26 GPA. He went on to study at the United States Naval Academy, pursuing the lifelong dream of becoming a Navy pilot.
Lt. Shubzda was a persevering and outstanding youth who maintained very close relationships with his family. His younger brother followed him to the Naval Academy and was in the process of earning his pilot wings at the time of Lt. Shubzda's death. The late Lieutenant also had a last love of football, which he played through high school and during his time at the Naval Academy. Lieutenant Matthew Shubzda is survived by his high school sweetheart – who he had made his wife in the June before his death – as well as his parents, and two younger brothers.
The Travis Manion Foundation honored Lieutenant Matthew Shubzda through the Character Does Matter program presented during the USNA's Summer Seminar and USNA STEM (Science, Technology, Engineering, and Math) Camp for rising 11th graders.
Related Links
TMF Stats:
001 78,000+ Veterans + Survivors Empowered

002 200,000+ Spartan Members
003 550,000+ Youth Living "If Not Me, Then Who..." Movement