Marines
Jeremy Graczyk
---
DOD // 07.12.2011
HOMETOWN // Atkinson, NH
DOB // 08.29.1977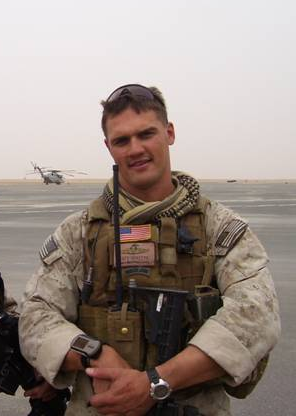 TOP CHARACTER STRENGTHS
      BRAVERY - LEADERSHIP- ZEST 
Jeremy Graczyk was born on August 29, 1977. He was a resident of Atkinson, New Hampshire for his entire childhood, which led to his lifelong fondness for the state. Jeremy graduated from Timberlane Regional High school in 1995 and was the valedictorian of his class. Following graduation from Timberlane, he attended the United States Naval Academy. Jeremy graduated from there with distinction in 1999 with a major in System Engineering and a minor in Spanish. Upon his graduation he was commissioned as a second Lieutenant in the Marine Corps.
Jeremy attended The Basic School Class Fox 1999. After graduation he was assigned the military occupational specialty of infantry. Upon completion of the Infantry Officer's Course, Jeremy was recognized by his peers and selected for the General Wheeler Leadership Award.
Jeremy's first assignment in August 2000 was as a rifle platoon commander in India Company, 3rd Battalion, 7th Marines. After a year as rifle platoon commander, Jeremy was assigned duties as 81mm mortar platoon commander where he would serve for the next two years. During this time his platoon participated in the invasion of Iraq as part of Operation Iraqi Freedom (OIF). For this service, 1st Lieutenant Graczyk was awarded the Navy and Marine Corps Achievement Medal. After returning from Iraq, Jeremy was assigned as 5th Platoon Commander, 1st Force Reconnaissance Company in September of 2003. Captain Graczyk was then redeployed to Iraq. Capt Graczyk was awarded the Navy and Marine Corps Commendation Medal with Combat Distinguishing Device for his deployment.
Returning to Camp Pendleton he sustained his service as 5th Platoon Commander and was assigned duties with the 11th Marine Expeditionary Unit, Special Operations Capable (MEU/SOC). He captained the 11th MEU Rugby Team in various port calls where he led a Mobile Training Team for Iraqi Marines. Jeremy's team trained over 600 Iraqi Marine Recruits and security personnel in Umm Qasr. Captain Graczyk was subsequently awarded the Navy and Marine Corps Achievement Medal.
In December of 2006, Captain Graczyk was reassigned to Bravo Company as Commander Officer for 1st Battalion 4th Marine Regiment. He redeployed in April 2007 as part of the troop surge. His company was detached to support Task Force 1st LAR in Anah, Reyanah, and Sagrah Iraq and partnered with the Iraqi Army and local police.
In June 2009, Captain Graczyk took on an assignment in Washington, D.C. as a special liaison between the Marine Corps and various intelligence agencies within the U.S. Government. In August 2009, Jeremy was promoted to the rank of major and his promotion ceremony was held at the Marine Corps War Memorial in Washington, D.C.
For his tours in Iraq and Afghanistan he earned three Navy and Marine Corps Commendation Medals, one Navy and Marine Corps Achievement Medal, two Combat Action Ribbons, two National Defense Service Medals, two Afghanistan Campaign Medals, five Iraq Campaign Medals, Global War on Terrorism Service Medal, Presidential Unit Citation, Meritorious Unit Citation, and seven Sea Service Deployment Ribbons. Subsequent to his passing he received a Bronze Star and a Bronze Star with Combat Distinguishing Device.
Jeremy died in a BASE jumping accident in Switzerland on July 12, 2011. 
Character Strength Stories: We know of multiple incidents while in combat, Jeremy exuded an unusual calmness in extremely stressful situations. Multiple stories have been told of Jeremy being in the eye of the storm, directing his troops with authority and confidence. Jeremy's zest for life was amazing. His love of adventure took him to all parts of the world for pleasure and sport. Those activities included paragliding, base jumping, skiing, mountain climbing, rugby, observing the African migration, and participating in the Baja 1000 three times.  -Submitted by James, Jeremy's Father
TMF Stats:
001 78,000+ Veterans + Survivors Empowered

002 200,000+ Spartan Members
003 550,000+ Youth Living "If Not Me, Then Who..." Movement