Army
John Pryor
---
DOD // 12.25.2008
HOMETOWN // Moorestown, NJ
DOB // 01.23.1966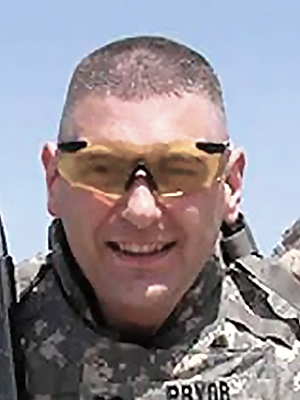 Maj. John Pryor was supporting Operation Iraqi Freedom when died December 25, 2008, in Mosul, Iraq.  He was a member of the 1st Medical Detachment, Forward Surgical Team based out of Fort Trotten, NY.  He was a graduate of Shenendehowa High School, the University of Binghamton and the University of Buffalo. A surgeon in the United States Army Reserve Medical Corps, Maj. Pryor was on his second tour of duty in Iraq at the time of his death.  In his civilian life, he was a professor and Trauma Program Director at the University of Pennsylvania Hospital and School of Medicine.  He is a recipient of the Bronze Star and the Purple Heart.  He was survived by his wife, Carmela and his children, Danielle, Francis, and John.
"JP was a magical man, with boundless energy and goodness," Dr. Pryor's mentor at Penn, Dr. C. William Schwab, said to local Philadelphia newspapers. "He was a devoted son, husband, father, colleague and friend. . . . At his core were many great values, but his passion for service to others" stood out.
The Travis Manion Foundation honored Maj. Pryor through the Character Does Matter program on April 4, 2012, when his story inspired 85 cadets from the Navy ROTC at the University of Pennsylvania in Philadelphia, Pa.
Related Links
Maj. Pryor's Column in Washington Post
http://www.washingtonpost.com/wp-dyn/content/article/2007/08/03/AR2007080301953.html
Philly.com
http://www.legacy.com/obituaries/philly/obituary.aspx?n=John-Pryor&pid=121867510 - fbLoggedOut
TMF Stats:
001 78,000+ Veterans + Survivors Empowered

002 200,000+ Spartan Members
003 550,000+ Youth Living "If Not Me, Then Who..." Movement