Navy
Jeffery Lucas
---
DOD // 06.28.2005
HOMETOWN // Corbett, OR
DOB // 09.17.1971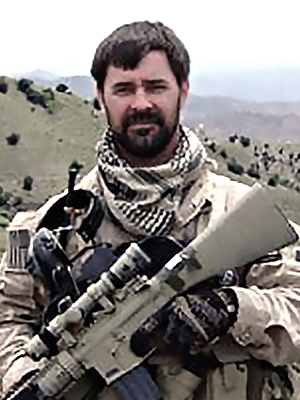 Electronics Technician 1st Class (SEAL) Jeffrey Lucas was born on 17 September 1971. He grew up in Corhett, Oregon. Jeff chose his career path early in fourth grade when he wrote a paper about all the Special Forces, Green Berets, Army Rangers, Marine Recon, and Navy SEALs, but said one day he wanted to be a Navy SEAL because they were the best. Upon graduating high school in 1989, he enlisted in the U.S. Navy. After graduating recruit training and Electronics Technician "A" school, he transferred to Naval Submarine Training Center Pacific, Pearl Harbor, Hawaii. After Hawaii he transferred to the Branch Medical Clinic, San Diego, California, from May 1991 to June 1993.
He entered Basic Underwater Demolition/SEAL in June 1993, graduating with class 191 in January 1994. After graduation, he reported to SEAL Team ONE, San Diego, California, from 1994 to 1999. Jeff came to the East Coast in 1999 and was assigned to Naval Special Warfare Development Group, Dam Neck for a year. Later he transferred to SEAL Team EIGHT for a year before coming to SEAL Team TEN in March 2002.
As a Leading Petty Officer, Jeff was known for his leadership. His enthusiasm and quick wit was portrayed in everything he did. He was considered a very funny man who was guaranteed to put a smile on the face of all in his presence. His ten years as a Navy SEAL has allowed him to create a laundry list of qualifications; such as sniper, sniper instructor, and military free fall parachutist to name a few. Jeff was an expert in every qualification and was known for his innovation and constant tinkering with his gear.
His medals include a Bronze Star (with "V" for Valor), Purple Heart, Navy and Marine Corps Achievement Medal (4 awards), Combat Action Ribbon, National Defense Service Medal (2 awards), Armed Forces Service Medal, Kosovo Campaign Medal, Afghanistan Campaign Medal, Global War on Terrorism Service Medal, Humanitarian Service Medal, Sea Service Deployment Medal (4 awards), NATO Medal, Rifle Expert, and Expert Pistol.
Jeff is survived by his wife Rhonda and son, Seth. Rhonda honored her husband's service during the 2015 Survivor's Summit Expedition.
TMF Stats:
001 78,000+ Veterans + Survivors Empowered

002 200,000+ Spartan Members
003 550,000+ Youth Living "If Not Me, Then Who..." Movement