Navy
Danny Dietz
---
DOD // 06.28.2005
HOMETOWN // Aurora, CO
DOB // 01.26.1980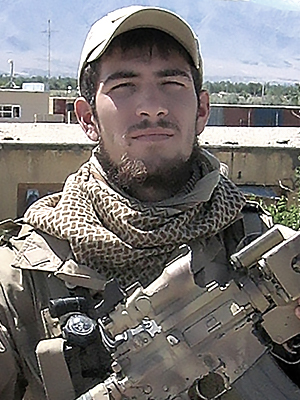 Danny Dietz Jr. was born on January 26, 1980 in Aurora, Colorado the son of Danny Phillip Dietz Sr. and Cynthia Dietz and brother to Tiffany Bitz and Eric Dietz. He was a 1999 graduate of Heritage High School (Littleton, Colorado). He earned his black belt in Taekwondo from the Korean Academy of Taekwondo. He enlisted in the Navy in 1999, earned his SEAL trident in 2001 and was subsequently assigned to SEAL Delivery Vehicle Team Two in Virginia Beach, VA in 2003. Dietz deployed with his Special Reconnaissance element to Afghanistan to support Naval Special Warfare Squadron Ten and the prosecution of the Global War on Terrorism.
Dietz was part of an elite team of four SEALs on a reconnaissance mission "tasked with finding a key Taliban leader in mountainous terrain near Asadabad, Afghanistan". On June 28, 2005, SEAL Team 10 was assigned to kill or capture a high ranking Taliban leader in the Hindu-Kush Mountains. The SEAL team was made up of Michael P. Murphy, Marcus Luttrell, Danny Dietz, and Matthew Axelson. A fierce gun-battle ensued between the four SEAL's and a much larger enemy force with superior tactical position," Danny, Matthew, and Michael were killed. Danny had radioed for help, and a responding Chinook helicopter was shot down by a rocket-propelled grenade, killing eight more SEAL's and eight Army Night Stalkers. It was the worst single combat loss for the SEAL's in SEAL history until August 6, 2011.
The location of Dietz' body was unknown for seven days. His remains were recovered during a combat search and rescue operation on July 4, 2005. Dietz was returned to the United States, where he was interred with full military honors at Fort Logan National Cemetery.
Danny service and sacrifice was honored by his family in the 2015 New Mexico Expedition.
To read more about Danny please visit the links below.
TMF Stats:
001 78,000+ Veterans + Survivors Empowered

002 200,000+ Spartan Members
003 550,000+ Youth Living "If Not Me, Then Who..." Movement