Army
Clarence Spencer
---
DOD // 02.04.2007
HOMETOWN // Fort Worth, TX
DOB // 11.26.1982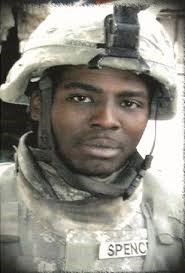 Top Character Strengths
HUMOR - LEADERSHIP - LOVE
Clarence T. Spencer died February 4, 2007 serving During Operation Iraqi Freedom. He was assigned to the 1st Battalion, 12th Cavalry Regiment, 3rd Brigade, 1st Cavalry Division of Fort Hood, Texas. Clarence died in Balad, Iraq, of wounds sustained when his unit came in contact with the enemy using small arms fire in Baqubah. Pvt. Spencer was a dedicated leader in Dunbar High School's JROTC program and an all-district strong safety on the football team. He graduated from Dunbar in 2001.
To know him is to know that everything he stood for was positive. He was a man who didn't believe in letting challenges stop him from doing anything. He was a man who answered the call and rose his right hand and promised to defend our country near and far, and ended up paying with his life. Anyone he met, he left a lasting impression on them. His favorite past time was watching football and driving and listening to music and telling funny stories. He will always be remembered for the kind, loving person that he was.
Father, Son, Marine and Soldier, PV2 Clarence T. Spencer will never be forgotten.
Character Strength Story: Humor. This was his best strength. We had a very informal wedding reception at his parents house. He created a scavenger hunt for my ring. I searched high and low, through grass and trees. After about 15 minutes of searching for it, he revealed that he had it in his pocket the entire time and it was surrounded by Hershey Kisses. -Submitted by Charlotte, Clarence's wife
TMF Stats:
001 78,000+ Veterans + Survivors Empowered

002 200,000+ Spartan Members
003 550,000+ Youth Living "If Not Me, Then Who..." Movement