Navy
Jeremy Crow
---
DOD // 02.15.2010
HOMETOWN // Hettinger, ND
DOB // 10.20.1974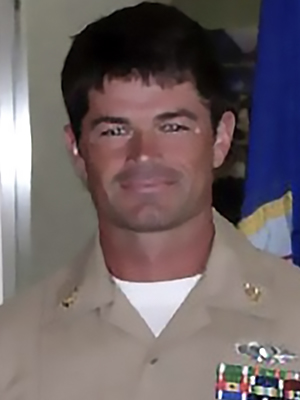 SCPO Jeremy Allan Crow, USN was born on October 20th, 1974 in Hettinger, North Dakota. He grew up in Huron, South Dakota with his younger brother and sister. Upon graduating from Huron High School in 1993, Jeremy enlisted into the US Navy as an Electronic Warfare Technician (EW) and was stationed aboard the USS Ticonderoga. In 1999 he transferred to Navy Space Center Command in Dahlgren, VA .
In 2002, Jeremy completed Special Warfare Combatant-Craft Crewman (SWCC) after which he was assigned to Special Boat Team TWENTY. He became the Maritime Craft Aerial Delivery System (MCADS) Detachment Officer-In-Charge of Detachment HOTEL and deployed to European Command in support of Operation Enduring Freedom from April until October of 2005. Senior Chief Crow also deployed to Pacific Command as the Detachment Commander for Detachment LIMA from April to October 2007. In 2008, SBCS Crow was hand-selected to deploy to Basrah, Iraq, as the Assistant Operations Officer in support of Riverine Task Unit ONE from October 2008 until January 2009. Senior Chief Crow completed his career at Special Boat Team TWENTY as the Operations Department Liaison Officer until he transferred to Naval Special Warfare Group FOUR on December 30th, 2009.
Jeremy was friend to all who knew him, loving husband, caring father and respected by those who served with him. He rarely missed cheering on the Pittsburgh Steelers, enjoyed riding his motorcycle, playing golf and spending time with his family.
He is survived by his wife, Amanda; two sons, Vincent and Gage Crow; his parents, Allen and Helen Crow; sister Deborah Houghtaling ; brother Barry Crow; paternal grandfather Robert A. and step-grandmother Patsy.
TMF Stats:
001 78,000+ Veterans + Survivors Empowered

002 200,000+ Spartan Members
003 550,000+ Youth Living "If Not Me, Then Who..." Movement