Army
Jose Jaquez
---
DOD // 07.19.2012
HOMETOWN // Crestview, FL
DOB // 12.18.1983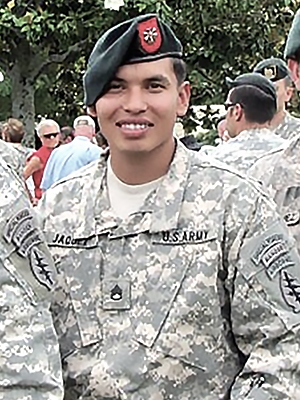 SFC JOSE ALEJANDRO JAQUEZ-CALAME, age 28, of Crestview, Florida, formerly of Devine, passed away Thursday, July 19, 2012 in San Antonio. He was born December 18, 1983.
Sergeant First Class Jose Jaquez-Calame was a native of Devine, TX and a 2002 graduate of Devine High School.  Jose entered the Army in July 2002, and served as an infantryman in the 82nd Airborne Division, the 1st cavalry Division, and was a decorated combat veteran of the wars in Iraq and Afghanistan.  Jose volunteered for the Army's extremely demanding Special Forces Assessment and Selection in 2008, and successfully completed Special Forces training in May 2010 and was awarded the coveted Green Beret.  At the time of his death, Jose was serving proudly as a weapons sergeant with the elite 7th Special Forces Group based out of Eglin AFB, FL.
Jose was only weeks away from his fourth deployment, having already served two combat tours in Iraq and Afghanistan, and one tour in South America. As a senior most knowledgeable Weapons Sergeant, Jose had been chosen to help execute, command, and control six ODA's (Operational Detachment Alpha) with First Battalion 7th Special Forces Group Airborne, based out of Eglin, Florida.
Jose's military education includes the Warrior Leader's Course, Airborne School, Basic Noncommissioned Officer Course, Jumpmaster course, Ranger School, Survival Evasion Resistance and Escape (SERE) course, Special Forces Qualification course, Combat Lifesaver course, Special Forces Advanced Urban Combat Course (SFAUCC), and Special Forces Advanced Reconnaissance Target Analysis and Exploitation (SFARTAETC) course.
His awards and decorations include two Army Commendation Medals, the Army Achievement Medal, three Army Good Conduct Medals, Valorous Unit Award, Army Superior Unit Award, National Defense Service Medal, Afghanistan Campaign medal, Iraq Campaign Medal, Global War on Terrorism Campaign Medal, Global War on Terrorism Service Medal, Noncommissioned Officer Professional Development Ribbon, Army Service Ribbon, Overseas Service Ribbon, Parachutist Badge, Combat Infantryman's Badge, Expert Infantryman's Badge, Ranger Tab, and Special Forces Tab.
Sergeant First Class Jaquez is survived by his wife, Meghan B. Jaquez-Calame of Crestview, FL.; son, Silo Ry Jaquez-Calame of Crestview, FL.; daughter, Mckenna Ryann Jaquez-Calame of Crestview, FL.; father; David Calame Sr. of Devine; mother, Deborah Calame of Devine; mother, Olga Briseno of San Antonio; brothers, David L. Calame, Jr. of El Paso, William E. Calame of Rio Medina, Daniel A. Calame of Sequin, Charles T. Calame of Devine, Christopher Jaquez of Norman, OK; sisters, Savannah L. Calame of Devine. Father and mother in-law Pat & Marsha Bourcier of Devine, brother-in-laws Shawn Bourcier and Phillip Bourcier of San Antonio. Grandmothers Anita Bresino of Oklahoma, Pat West of Devine and Betty Walker of Natalia. Nephew Garrett Bourcier, and nieces Berklee Bourcier and Mia Bourcier.
Jose's wife, Meghan, describes her husband as the type of person who made friends with everyone he met. He always had a smile on his face that without fail made everyone else smile. He loved life and lived his life to the fullest. There was no goal that he set for himself that he didn't reach. He accomplished a lot in his 28 years of life but his biggest achievement in his eyes was becoming a father. He loved our two tiny humans more than anything in this world. He was always pushing himself to become the best that he could be. While out conquering the world, he taught me what love was. Love for each other and love of life. He did everything will his whole heart and by doing so he has left a piece of him with so many others to remember him by. He was my absolute best friend and I miss him everyday.
Meghan honored her husband's service during the 2015 Survivor's Summit Expedition.
TMF Stats:
001 78,000+ Veterans + Survivors Empowered

002 200,000+ Spartan Members
003 550,000+ Youth Living "If Not Me, Then Who..." Movement