Marines
Thomas Bagosy
---
DOD // 05.10.2010
HOMETOWN // Newark, DE
DOB // 07.24.1984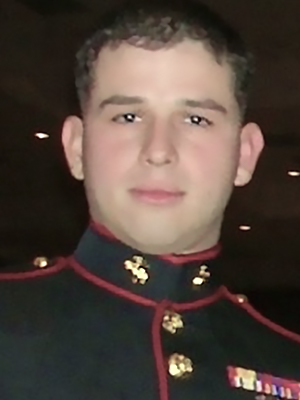 Sgt Thomas Bagosy, USMC, of Newark, DE died May 10, 2010, on Marine Corps Base Camp Lejeune.
Sgt Bagosy was assigned to U.S. Marine Corps Forces Special Operations Command. He joined the Marine Corps in June 2004, and trained as an automotive organizational mechanic. He served in Iraq from September 2006 to April 2007, and in Afghanistan from June to November 2009. He earned two Combat Action Ribbons, a Navy Unit Commendation, a National Defense Serivce Medal, an Afghanistan Campaign Medal, an Iraq Campaign Medal, and a NATO Medal-ISAF Afghanistan.
Thomas is survived by his wife, Katie Bagosy, their children, Nathan and Avery Bagosy, his parents, Robert Bagosy and Iris Proffitt Bagosy, his brothers, Mike and David Bagosy, and his sisters, Stacy Regan and Kristen Orndorf.
"I want Tommy to be remembered for his military service, bravery, and heroic actions while serving in two combat zones," Thomas' father, Robert Bagosy, told Travis Manion Foundation. "To honor my son's service is to honor the motto of the Marine Corps – Semper Fidelis."
Travis Manion Foundation provided Challenge Grants to the Bagosy family, empowering them to train for and run the Marine Corps 10K in honor of their fallen loved one. The family visited Thomas's grave at Arlington National Cemetery for the first time and also ran the Marine Corps 10K in October 2011.
In August 2013, Thomas's wife Katie participated in the Travis Manion Foundation's Survivors Retreat in honor of her husband.
Tommy's brothers and father have also participated in multiple Travis Manion Foundation Expeditions to honor him.
TMF Stats:
001 78,000+ Veterans + Survivors Empowered

002 200,000+ Spartan Members
003 550,000+ Youth Living "If Not Me, Then Who..." Movement