Navy
Kevin Ebbert
---
DOD // 11.24.2012
HOMETOWN // Arcata, CA
DOB // 01.23.1980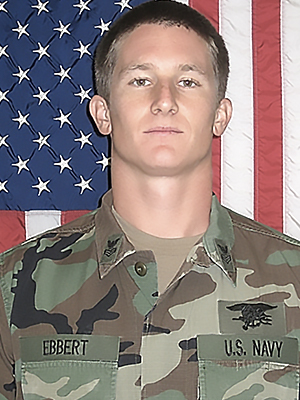 Kevin R. Ebbert grew up in Arcata, CA where he enjoyed art, music, and the outdoors; especially ultimate frisbee.  Upon his graduation from Arcata High School in 1998, Kevin pursued a bachelor's degree in music from UC Santa Cruz.  Ebbert enlisted in the Navy in 2006 and reported to BUD/S soon after.  In addition to his SEAL training, Kevin was also trained as a hospital corpsman and intended to pursue a career as a physician after leaving the Navy. SO1 Kevin Ebbert was killed in action on November 24, 2012 while supporting stability operations in the Uruzgan Province, Afghanistan.
"For me, Kevin was a benchmark of what someone could do if they dedicated themselves," Ebbert's longtime friend Josh Krebs said. "He was incredibly successful in everything he did."
Kevin is survived by his wife, Ursula, his mother and sister, as well as two stepsisters, stepfather, and other relatives.
In 2013, Kevin's wife, Ursula, participated in the Travis Manion Foundation's Survivor Summit Expedition in Granby, Colorado. Ursula and twelve other surviving wives, fiancés and girlfriends carried on the legacy of their fallen hero as they experienced the healing power of the mountains. Ursula also participated in the 2014 Survivor Summit Expedition in Lima, Peru in honor of her husband.
Kevin's sister, Samantha Ebbert-Martinez, has honored her brother in many TMF expeditions and races. His mother, Charlie Jordan, has honored him as a part of the 2019 TMF Guatemala expedition.
TMF Stats:
001 78,000+ Veterans + Survivors Empowered

002 200,000+ Spartan Members
003 550,000+ Youth Living "If Not Me, Then Who..." Movement