Navy
Marc Lee
---
DOD // 08.02.2006
HOMETOWN // Hood River, OR
DOB // 03.20.1978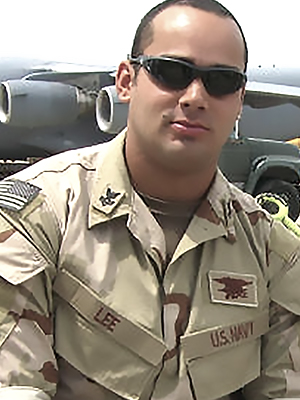 SO2 (SEAL) Marc Lee, 28, of Hood River, Ore. died Aug. 2, 2006, making him the first SEAL killed in Iraq. He was assigned to SEAL Team Three. Lee was awarded the Bronze Star with Valor, and was posthumously awarded the Silver Star, a Combat Action Ribbon, and a Purple Heart. Lee was survived by his wife, Maya and his mother, Debbie.
"They're such heroes, so strong, that never in my mind did I think this could happen," the SEAL's widow, Maya Lee told the LA Times. "Marc was amazing. He was my best friend, my love."
The Travis Manion Foundation honored SO2 (SEAL) Lee along with his best friend, SOC (SEAL) Brian Bill, KIA Aug. 6, 2011 and 30 more Fallen SEALs through the Character Does Matter program. Bill's cousin, Julia Davis, presented the "If Not Me, Then Who…" Service Challenge to 43 students at Westover School in Middlebury, Conn. on Feb. 18, 2013. The girls were challenged to learn the stories of the Fallen Heroes and continue their legacies of service within their own communities.
Related Links
LA Times
http://articles.latimes.com/2006/aug/07/local/me-seal7
http://articles.latimes.com/2006/aug/11/local/me-sbriefs11.2
Washington Post
http://apps.washingtonpost.com/national/fallen/2897/marc-lee/
America's Mighty Warriors
TMF Stats:
001 78,000+ Veterans + Survivors Empowered

002 200,000+ Spartan Members
003 550,000+ Youth Living "If Not Me, Then Who..." Movement