Navy
Eric Shellenberger
---
DOD // 05.07.2009
HOMETOWN // Pennsburg, PA
DOB // 11.19.1972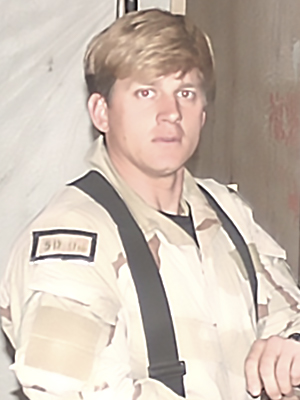 Eric F. Shellenberger "Shelly" was born in Tampa, FL on November 19, 1972. He attended North Penn High School in PA and graduated from Abundant Life Academy in SC in 1990. He then attended UNC on a scholarship and decided to join the Unites States Marines in 1991. While proudly serving for nine years, he received several medals including the Marine Corps. Commendation Medal with Combat Distinguishing Service. He earned five Sea Service Deployment Ribbons while serving in Japan, Somalia, and Sudan. While serving in the Marines he completed Army Airborne, Army Ranger and Combat Dive School.
In 2000, Eric opted to join the US Navy SEALs. He graduated BUDS Class 232 as Honor Man. He was assigned to SEAL Team 1. He served as his Team's Air and Diving Head. Eric received orders to the SEAL Delivery Vehicle Team 1, where he served as the Special Operations Chief. When he was not in the water, he served as the Assault Leader on missions involving high value targets. Eric completed seven missions during the Gulf War, Iraq, and Afghanistan. He received the Iraq Campaign Medal and was named Naval Special Warfare Sailor of the Year while serving nine years as a Navy SEAL.
Eric left behind his loving mom, dad, stepdad, and two younger brothers, Marc and Jared who loved and looked up to him. He enjoyed spending time with all of his family members. He had a zest for life; he worked hard and played just as hard. He would, and has flown, around the world for a friend in need. Eric was an eternal optimist, very generous, always willing to lend a hand, and the life of the party.
Eric was an avid sports fan. When home he would always try to attend any sporting event. He was a passionate Philadelphia Eagles fan. During the Eagle's quest for the Super Bowl, he was able to attend all of the play off games and the Super Bowl in Tampa with his stepdad. He led the cheers and fired up his entire section of the stadium. He had a passion for Mustangs and Harleys. He proudly spent his spare time babying, driving and riding his Shelby and two Harley Davidsons.
Eric lost his life during a mini-submarine training exercise. He was KIT 05/07/2009 in the waters off the coast of Washington State. Eric proudly served as both a Marine and Navy SEAL. He bravely and willingly accepted the risks inherent in training and carrying out Special Operation Missions. He was truly a hero in every sense of the word and is called a legend by his fellow SEALs. He will be forever remembered. – Submitted by family 
His mother Rhonda honored Eric's service and sacrifice during the 2015 Shane's Challenge in Guatemala.
TMF Stats:
001 78,000+ Veterans + Survivors Empowered

002 200,000+ Spartan Members
003 550,000+ Youth Living "If Not Me, Then Who..." Movement