Army
Christopher Schornak
---
DOD // 02.26.2006
HOMETOWN // Marietta, GA
DOB // 11.01.1977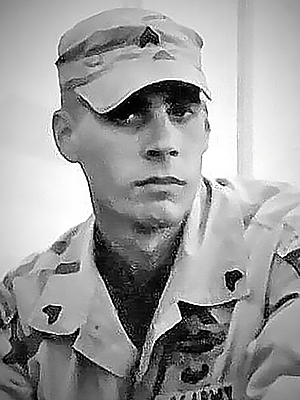 Christopher James Schornak was born on November 1, 1977 to Jim and Lesley Schornak. Even as a child, he was funny and charming, the life of the party. He knew at a young age that he wanted to serve in the Army, and lived his life preparing for the day he could join. Chris participated in Boy Scouts and earned the status of Eagle Scout at the age of 18. He also participated in ROTC during his high school career at Pope High School in Marietta, GA. He entered the Army just after graduating in 1996 and attended boot camp in Ft. Benning, GA. His first duty station was an overseas assignment in Germany. Upon his return to the States, he was stationed at Ft. Campbell, KY and assigned to the 327th Infantry Company. This is where we met and fell in love. We were married on October 31, 2002 and Christopher deployed to Iraq on March 1, 2003, when I was eight months pregnant with our son. Exactly one month later, on April 1, 2003, God blessed our family with a beautiful baby boy, Tristan James Schornak. He was perfect. He was just like his Dad.
Finally, in October of 2004, Chris got to come home for two weeks of R&R and meet our son. He was immediately wrapped around Tristan's finger, just like the rest of us. The day he had to return to Iraq was one of the biggest heartbreaks either of us had to ever endure. Thankfully, we made it through the next several months and Christopher safely returned home to Ft. Campbell on Valentine's Day of 2004. Chris decided then, after eight years of service, that he would not reenlist. Our family was too important to him and he never wanted to leave us again. That July, we left Ft. Campbell and moved to Alabama to be close to his parents. Chris worked in construction and I had an office job, but he was miserable. He became irritated and sad, and he was no longer the man that I knew he had once been. On New Year's Day of 2005, Chris broke down and confessed to me how much he missed the Army. He missed his job and his soldiers, he missed getting up for PT in the mornings and putting on his uniform every day, but mostly he missed living with a sense of purpose and pride, knowing that he was changing the world. The next week, he reenlisted in the US Army. In April of 2005, we were moved to Ft. Hood, Texas and assigned to the 4th Infantry Division.
We were only at Ft. Hood for a few months before orders were again issued for Iraq. This time, though, would be different. He assured me that he was going to the "Green Zone" in Baghdad which was believed to be the most secure area in the city. We would have internet, and he could have a cell phone. It was going to be a far cry from the first deployment when we didn't speak for 13 long weeks. This was safe.
In December of 2005, we said our goodbyes. Little did we know that the hugs and kisses we shared that morning would be the last ever. On February 26, 2006, SSG Christopher Schornak was killed during an ambush on his squad during a routine patrol of the city. Fortunately, he was the only casualty.
Chris' guys will tell stories of heroism and courage that day, how he sacrificed himself for the safety of his squad. To me, he had been a hero since the day he was born. He lived and breathed by serving others. I know that sometimes when a person dies, a picture is painted of a perfect life without fault or sin. Chris was not perfect. He made mistakes and sometimes followed the wrong path, the same as everyone else. But he was a good man. He was a great dad and husband. He loved his family and he loved God. He loved his country and the uniform he wore for it. Chris died with honor, because he lived an honorable life. – submitted by family
TMF Stats:
001 78,000+ Veterans + Survivors Empowered

002 200,000+ Spartan Members
003 550,000+ Youth Living "If Not Me, Then Who..." Movement