Army
Jonathan Dozier
---
DOD // 01.09.2008
HOMETOWN // Norfolk, VA
DOB // 09.30.1977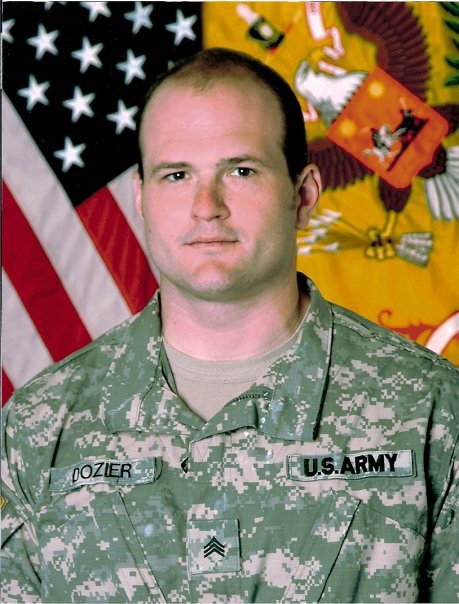 TOP CHARACTER STRENGTHS
BRAVERY - LOVE OF LEARNING - PERSPECTIVE
Jonathan K. Dozier CHESAPEAKE - Staff Sgt. Jonathan Kilian Dozier, U.S. Army, 30, was killed Jan. 9, 2008, during combat operations in Sinsil, Iraq. Born in Norfolk, he was the son of Carl M. Dozier and Martha D. Cabe. Jonathan was predeceased by his maternal grandparents, James and Eleanor Day. 
As a youngster, Jon was a kind and loving brother and son. He had a tender heart and a loving spirit. As he grew older, he was surrounded by many loyal friends, and his best friend was his sister Jennifer. As a teenager he loved to swim and surf. Many weekends were spent with family on the Outer Banks of North Carolina.
Like most youngsters, Jon liked to play soldier in the woods behind his home. He decided that he wanted to become one when he became a man. Jon selected Infantry and wanted to be the very best. He graduated as Soldier of the Cycle from his Training Company at the Infantry Training Brigade, Fort Benning Georgia. Later, he graduated from Jump School, Sniper Certified and completed Phase I of Special Forces Qualification Course.
Jon served in Korea and had a break in service when he attended college at Middle Tennessee State University. He was well-liked in his fraternity, Sigma Alpha Epsilon. His dog, Bo, served as Sig Ep's informal mascot. After school, he returned to the Army and continued his training as a Sniper and Scout with the 3rd Squadron (Wolfpack), 2nd Cavalry Regiment. Around this same time, he met Amy, and within the year, they married. His Regiment deployed in August 2007, just after the birth of his daughter, Emma Grace. Jon kept in touch with his family as often as his job would allow. In his last letter home, he wrote that he was not afraid to die, but that he did not want to die for nothing; he believed in something larger than himself and wanted nothing more than to make sure his daughter understood this. He died in Iraq when Emma was just 13 months old.
Since his death, Jon's wife Amy and daughter Emma have been advocates for veterans of our military and work diligently everyday to live a life of great purpose. Jon's legacy lives on through the dedication of his family and friends, as they keep his memory alive by sharing stories of the life he lived on and off the battlefield.
Character Strength Stories:
When Jon was in Iraq, he was given a little green notebook. I had seen these notebooks used previously for jotting down anything from phone numbers to battlefield strategies. What I didn't know until after Jon was killed was that he had used the last few pages of his little green notebook to write "Things I want my child to know". On these pages, Jon had created a list of things for our daughter Emma to remember as she grew up; things like looking for chances in life to learn new things, being true to one's beliefs, and being a part of something bigger in life. It's a beautiful, comprehensive list that highlights so many of Jon's character strengths. I can only imagine the bravery it took to openly share his wisdom and perspective in this notebook for Emma to one day read.
-Submitted by Amy, Surviving Wife
Related Links:
TMF Stats:
001 78,000+ Veterans + Survivors Empowered

002 200,000+ Spartan Members
003 550,000+ Youth Living "If Not Me, Then Who..." Movement