Army
Vincent Marketta
---
DOD // 08.27.2020
HOMETOWN // Brick, NJ
DOB // 08.05.1987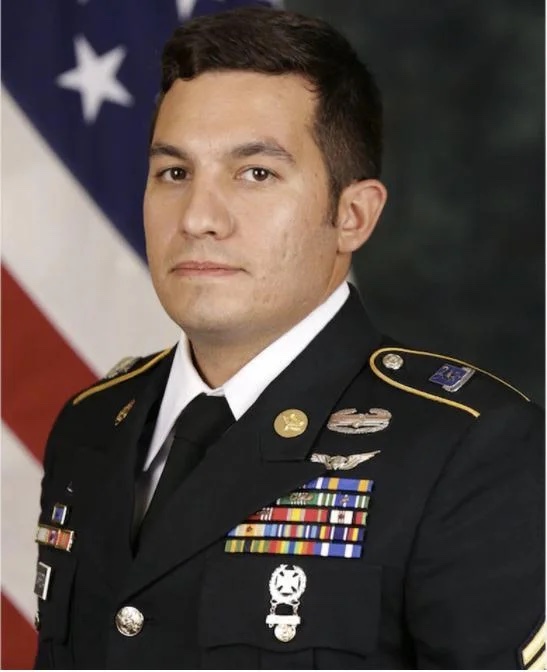 TOP CHARACTER STRENGTHS
BRAVERY - HOPE- LEADERSHIP
Staff Sergeant Vincent P. Marketta was born on 5 August 1987 and was a native of Brick, New Jersey. He was killed on 27 August 2020 while conducting aviation training on San Clemente Island, California, while assigned to Charlie Company, 1st Battalion, 160th Special Operations Aviation Regiment (Airborne).
SSG Marketta volunteered for service in the U.S. Army when he enlisted in 2011. He graduated from Basic Combat Training and Advanced Individual Training as a 15T UH-60 Black Hawk Repairer. Upon completion of his initial training, he was assigned to the 160th Special Operations Aviation Regiment (Airborne) at Fort Campbell, Kentucky, and completed Enlisted Combat Skills (Green Platoon) training in 2012. Upon graduation from Green Platoon, SSG Marketta spent 18 months as an aircraft repairer in Foxtrot Company, 1st Battalion and in 2014, he was assigned to Charlie Company, 1st Battalion, for service as an MH-60 DAP Crew Chief. While in Charlie Company, SSG Marketta served as a Fully Mission Qualified Crew Chief, Flight Instructor, Section Sergeant, and Platoon Sergeant.
While assigned to the 160th SOAR (Abn), SSG Marketta deployed to Afghanistan in support of Operation ENDURING FREEDOM and multiple times to Iraq in support of Operation INHERENT RESOLVE. Over the course of his career, he flew over 1300 total flight hours in the MH-60L and MH-60M, including 600 hours under night-vision goggles, and 300 hours in combat.
SSG Marketta was a graduate of the Enlisted Combat Skills (Green Platoon), Combatives Level 1, MH-60 Maintainers Course, the Survival, Evasion, Resistance, and Escape (SERE) School, MH-60 Non-Rated Crew Member Course, the Basic Leaders Course, Advanced Leaders Courses, and the MH-60 Flight Instructor Course.
He is survived by his wife, Daniella; his daughter, Gianna; his parents, Richard and Mary; and his brothers, Anthony, Nicholas, and Dominic. He is laid to rest at Brigadier General William C. Doyle Memorial Cemetery at Joint Base McGuire-Dix-Lakehurst, New Jersey.
Character Strength Stories:
Love - Vinnie's love for his family and friends stretched far beyond what I can describe in words. He may have put on a hard exterior but he surely expressed his love in his actions. He was always willing to lend a hand to a friend or just being a listening ear.
Family was truly the most important part of Vinnie's life. His line of work made it difficult to be around for the important dates and moments that happen in life but he always found a way to show his love even from thousands of miles away. He loved our little family so much and would constantly remind us that all we needed were each other to get through anything.
-Submitted by Daniella, Surviving Wife
TMF Stats:
001 78,000+ Veterans + Survivors Empowered

002 200,000+ Spartan Members
003 550,000+ Youth Living "If Not Me, Then Who..." Movement