Air Force
Andrew Harvell
---
DOD // 08.06.2011
HOMETOWN // Long Beach, CA
DOB // 09.26.1984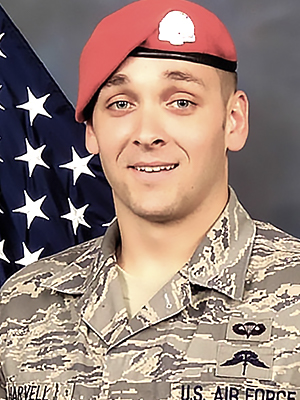 Staff Sgt. Andrew W. Harvell, USAF, 26, of Long Beach, Calif., was killed along with 29 other United States service members in a CH-47 Chinook helicopter crash in Wardak province, Afghanistan. Harvell, who graduated from Miliken High School in 2002, lived in North Carolina with his wife, Krista, and two children, Hunter and Ethan. He was also survived by his parents, John Harvell and Jane Maher, his brother, Sean, and sister Analese Eder.
"He [Andrew] was a warrior and took to the enemy without hesitation, but when home, he was kind, gentle, patient and completely loving to our children and myself."
– Krista Harvell, via Air Force News
The Travis Manion Foundation honored Staff Sgt. Andrew W. Harvell with 30 other Fallen Heroes through our Character Does Matter program at the Westover School in Middlebury, Conn., on Jan. 18, 2013.
Related Links
NBC Los Angeles
http://www.nbclosangeles.com/news/local/Andrew--Harvell---Heart-of-a-Lion--127561838.html
TMF Stats:
001 78,000+ Veterans + Survivors Empowered

002 200,000+ Spartan Members
003 550,000+ Youth Living "If Not Me, Then Who..." Movement