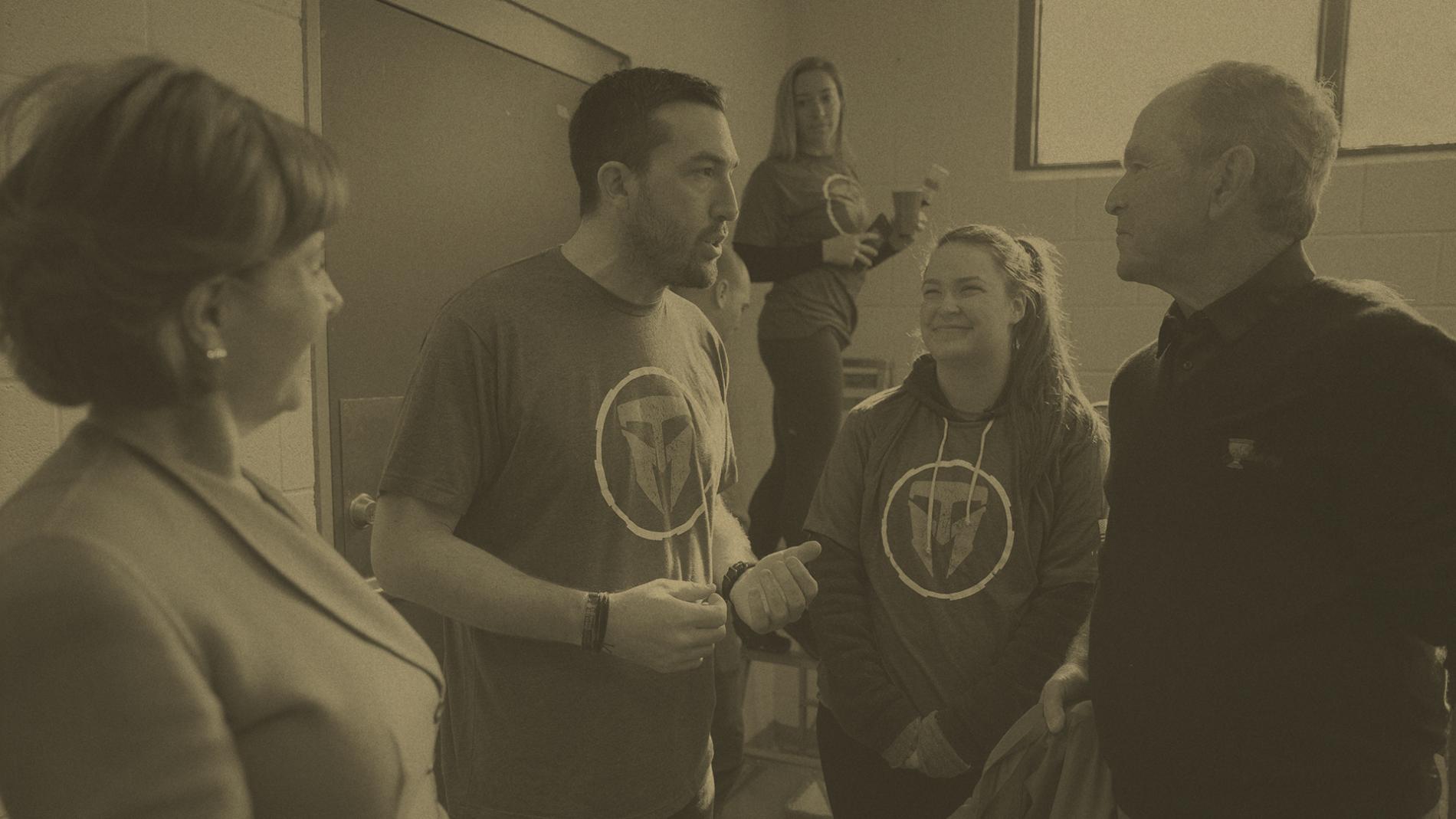 A sixth-grade girl growing up in Pennsylvania's coal country and America's cowboy boot-clad president: worlds apart, yet two sides of the same coin.
Lydia Sandri, the Gold Star sister of Sgt. Matthew Sandri, has been keeping the memory of her big brother alive with some unlikely help from George W. Bush, 14 years after Matt paid the ultimate sacrifice.
George W. Bush and his wife Laura joined TMF for
Operation Legacy on Veterans Day 2018
in South Philadelphia, planting trees with surviving family members in honor of their fallen heroes. Among the group was Lydia, who presented Bush with a Travis Manion Foundation challenge coin to thank him for his commitment to our military and their families.
With her, she had a relic of years past: the presidential challenge coin Bush presented her a decade prior.
 
Their story starts back in May 2008, when Lydia, just 10 years old at the time, was attending the 82nd Airborne All American Week at Fort Bragg, NC.
Her older brother, an Army paratrooper, gave his life four years prior in Fallujah, Iraq. The Sandri family remained close to the 82nd community, and that brought them to North Carolina every year for All American Week, in part to reconnect with Matt's unit and friends, and to remember their son and brother.
It was Bush's final year in the White House—he was invited to speak, and attended the annual memorial service outside the division's museum. Lydia and her family had already laid their rose  and returned to their seats when Bush started an impromptu receiving line, meeting with soldiers and their families.
Lydia realized she had missed her chance.
"I didn't stop talking about it after we got home," Lydia said. "So my dad made me write him a letter. On looseleaf paper and pencil, my dad dictated to me what I should write."
In her letter, Lydia told Bush about who she was, who her brother was, and that she was upset about not getting to meet him at Fort Bragg.
"In July, I got a letter back from a [White House] secretary saying the president is busy and he couldn't meet with me," Lydia said. "I was kind of like, 'OK, I tried.' And I thought that was the end of it."
But one Saturday in October, that changed. Lydia had just gotten home from ballet lessons when her dad approached with the phone. On the other end was a White House aide who had read her letter and invited Lydia and her family to meet with Bush on Veterans Day aboard the USS Intrepid.
The seven Sandris joined Bush and Laura in their receiving room, and shared stories of Matt and their family. Bush presented Lydia with the Presidential Challenge Coin and invited her to see the Oval Office before his term ended.
10 years later—on the exact day—Lydia got the chance to coin him back at a local park in South Philly as part of TMF's Operation Legacy, a national service push to unite communities and honor the fallen.
"It was very surreal," she said.
"But that's his legacy: Everyone that was killed since Sept. 11, that was his legacy in office," Lydia said of Bush, who was sitting president when her brother gave his life. "Being there with him while planting these trees in honor of people who were killed while he was in office was him honoring the fact that he recognizes they're part of his legacy. He's honoring their legacy while doing it."
001
78,000+
Veterans + Survivors Empowered
002
200,000+
Spartan Members
003
550,000+
Youth Living "If Not Me, Then Who..." Movement