Veteran Stories
Character Takes Flight: All-Female 'Lady Spartans' Mentor Teen Girls in Service & Character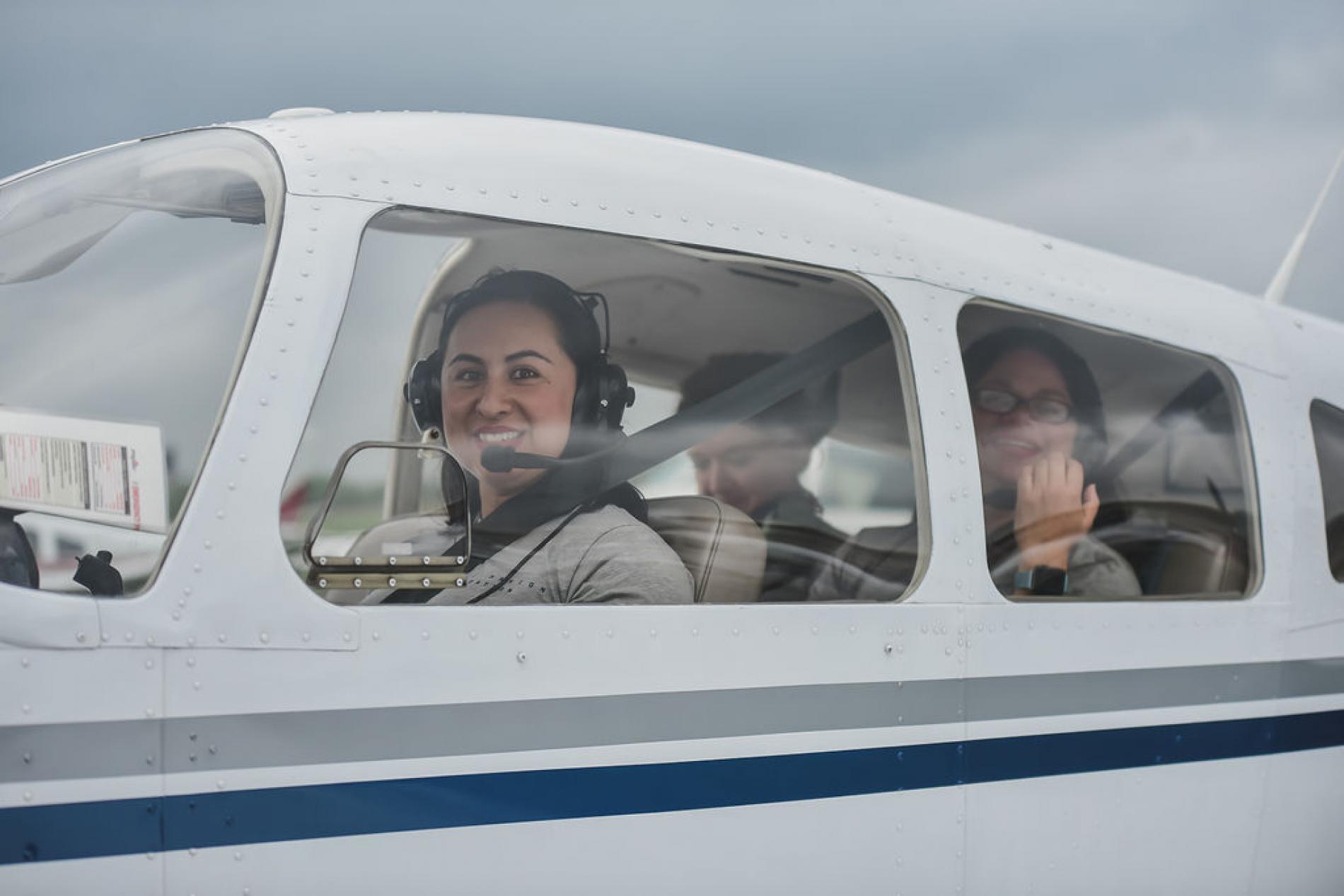 Beth Johnston hasn't stopped smiling.
Not since April 13, when she and a cadre of fellow Texas women spent their day mentoring young girls, calling on the character and strength of women who came before them, and performing service in honor of a fallen hero.
The Lady Spartans—a group of Travis Manion Foundation mentors that includes Johnston, Tierra Kirts, Michelle Barnett, Lupita Hernandez, and Jen Horn—partnered with Texas Flight school and
Girls Inc. of Greater Houston
to bring a
Character Does Matter presentation
to the audience of teen girls, before taking the group to the skies. The group also welcomed Vickie Croston, daughter of the woman who inspired Rosie the Riveter's character and herself a pilot, for a special presentation.
"My face hurts so much just from smiling. I felt empowered. Looking around, I was just in awe. It was a magical experience," said Johnston.

"I think I would use the same word," said Kirts, who currently serves in the Army Reserves. "It was really empowering. It was a powerful day. We had so many great examples of women. Some of the girls, when we went on the flight, it was their first time on an airplane."
"In the group of girls that I was with, two of them were saying they wanted to join the military," said Kirts. "For me as a veteran—from active and continuing to serve in the reserves—

that was extremely gratifying. Sometimes we take our service for granted, we look at it as a job."
"But when you see young people who really admire it and want to do it when they get older, it's very humbling. It makes me appreciate our service and look at it from a different perspective."
The day also included a service component as a part of
Operation Legacy
, in which the group of women and teen girls cleaned the hangar. The mentorship and service was dedicated to the memory of Army
Spc. Kamisha Block, a Texas native who gave her life in August 2007.
Though Spring Operation Legacy wrapped up at the end of April, the Lady Spartans are already planning their next "deployments" in the Houston area. 

The group says they want to continue addressing women's issues, and will be focusing on subjects like human trafficking and domestic abuse next, as well as continuing to instill character lessons in young women in honor of fallen female heroes.
001
78,000+
Veterans + Survivors Empowered
002
200,000+
Spartan Members
003
550,000+
Youth Living "If Not Me, Then Who..." Movement